April 21, 2018 – For the trek North, Tony came back to Harbor Island.  The night before leaving, we decided on a full Briland bar hop which left the crew less than perfectly prepared for the unexpected rough seas South of the Abacos.  As the only (able-bodied) adult on Emmanou, Karin took the executive decision to reroute Emmanou to an anchorage in Lynyard Cay – the nearest land available, 4 hours short of our original destination of Hope Town – Tony and Thach were in no state to object.  Among her super powers, Karin does not get sea sick.  Among her other super powers, she exercises restraint on a night out.  Lynyard Cay offered less than perfect shelter against forecast Westerly 30-knot winds, which afforded us the opportunity to deploy Emmanou's flopper-stoppers, designed to stabilize the boat in rough anchorage situations.  Based on the condition of the rubber floppers, it would seem that this might have been their first deployment in a while (if ever) but the flopper stoppers did an admirable job limiting Emmanou's roll through the night.  Replacing the rubber mats on the flopper stoppers (yes, I do like using the term) was added to the boat to-do list.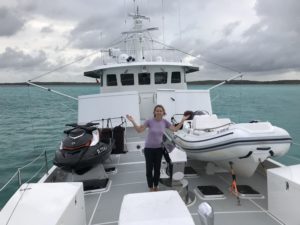 Before leaving the Abacos we took a stop at Guana Cay to sample the much-promoted Sunday pig roast at Nippers.  We imagined heathen dances around a pig on a spit roasting on an open wood fire a la Lord of the Flies.  This turned out to be a big disappointment – imagine instead a Jersey Shore beach bash with cafeteria trays of bad food and a drunk crowd transplanted from said Jersey Shore…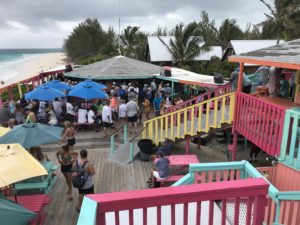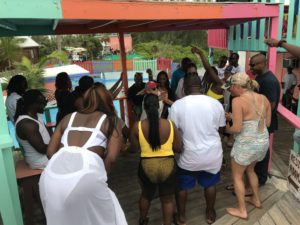 The Guana Cay stop was not a complete write off as Tony and Thach got tips on the finer points of Bahama-style lobster hunting that evening at a local Tikki Bar.  Meanwhile Karin was getting a good night's sleep for the upcoming overnight leg back to the states.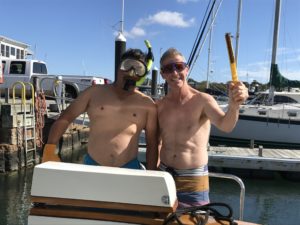 As weather was brewing North, we decided to cut back on our double overnight run to Charleston and aim instead for a more Southerly route across to Cape Canaveral.  This did not totally ensure a smooth crossing as we hit a big thunderstorm that night upon leaving the Sea of Abacos for the deeper Atlantic waters.  Under zero-visibility and with just the radar to guide us, we learned to adjust our course to balance the impact of wind and waves on the boat with the shortest route through the storm.  Cape Canaveral turned out to be a gem and we could have used an extra day to go back again to the Space Center – a great testament to the complexity and magnitude of space missions.  Imagine the building of the pyramids without coercion, spending your whole career dedicated to something you may never see come to fruition – that takes rare dedication to a mission.