April 2021 – With a May 1 departure target date for our Atlantic Crossing, and the need to leave a couple of weeks for final repairs and preparations, our splash at the end of the first week of April limited our shakedown cruise to the Abacos. For this we were joined by Jonathan and Bettyann Nettelfield and Dylan their Yellow Lab. The rest of this post and the next are by guest blogger Jonathan Nettelfield…
Dylan's Blog: After three long days in the car driving down from NY we were all glad to get aboard. Smelled the same to me but my humans were impressed with all the new stuff since we were last on Emmanou in Maine and Montauk. Set out across the Gulf Stream and pretty much right away Bettyann went into severe seasick mode for the rest of the crossing to West End. My duties included lying down with her in the cockpit to try to comfort her but didn't make any difference. Captain Thach was thoughtful enough to catch this image on the ship's security cam.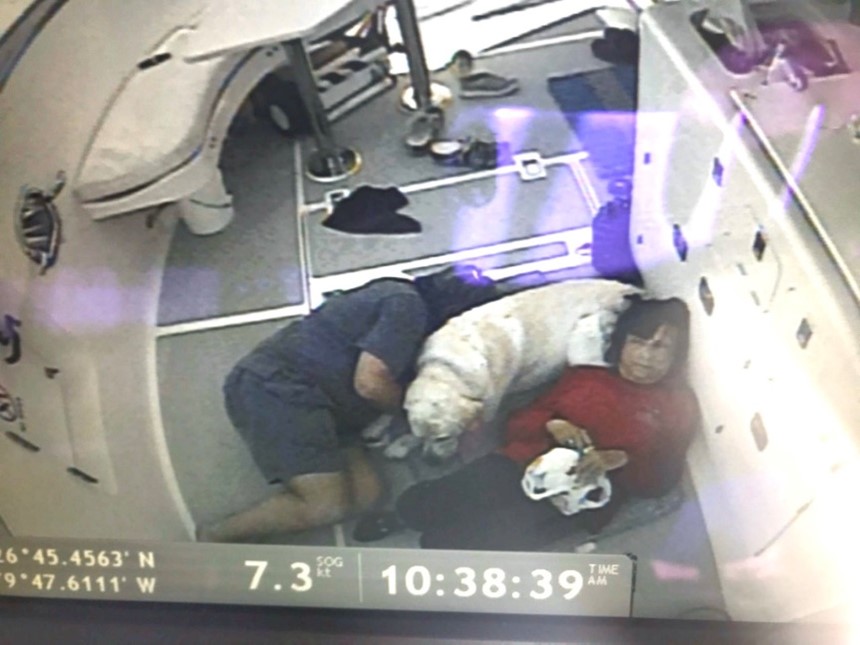 Spent two nights on the dock at West End enjoying all the amenities there, which included multiple helpings of conch salad.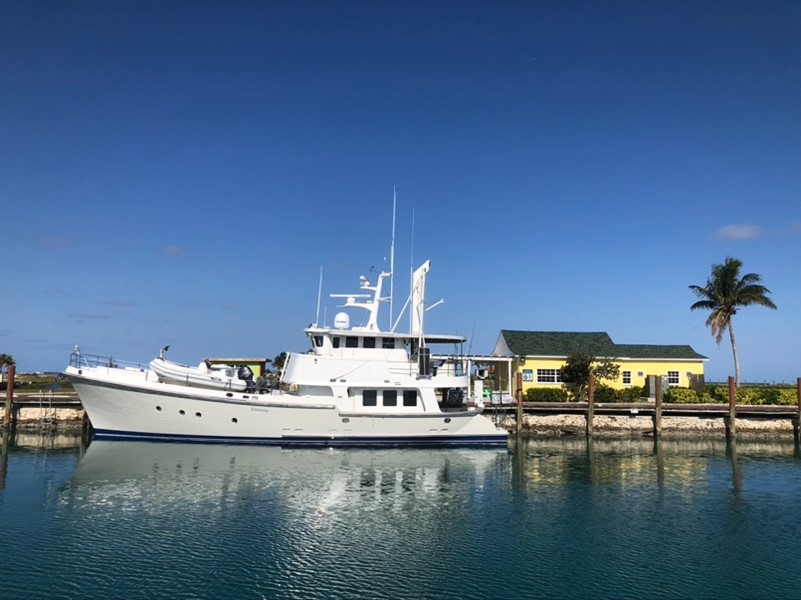 From there to Great Sale Cay (which is up for sale!), Green Turtle Cay where we submitted to the required Covid tests and celebrated our negative results with a mahi-mahi dinner at the only open restaurant after a walk and a swim. This was the first place where we witnessed the extensive damage from Hurricane Dorian, 18 months previously, which was sad. Many houses ruined, walls blown down and boat wrecks littering the shore and in some cases, inland.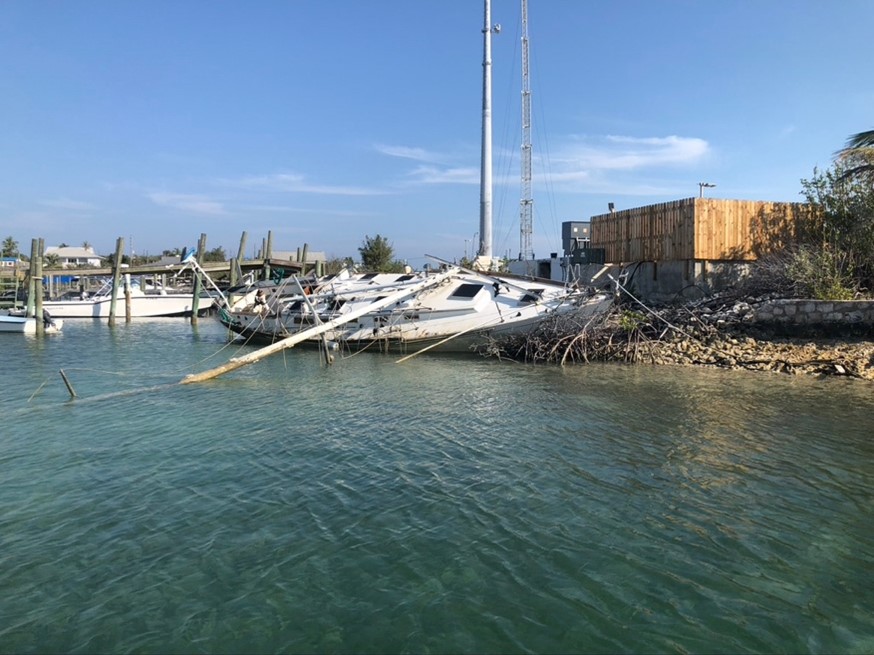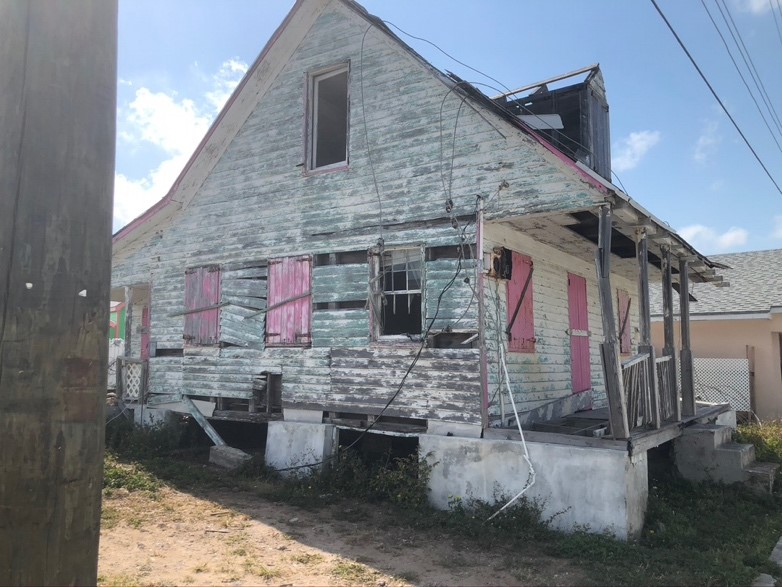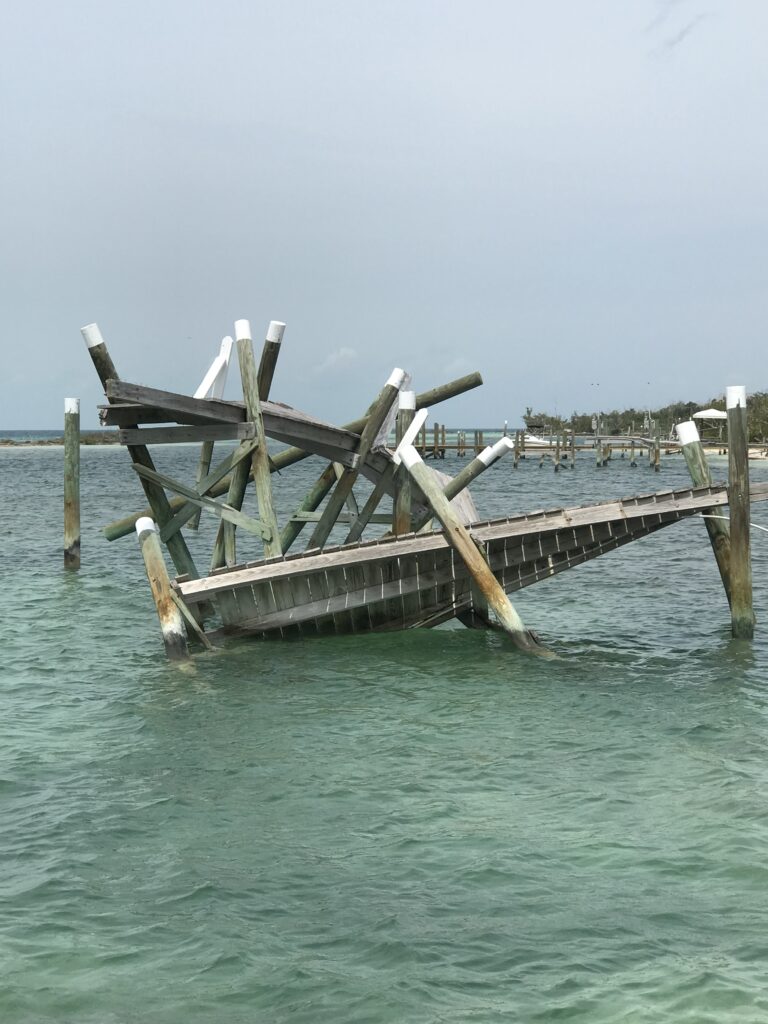 We called in to see Treasure Cay, the site of boyhood Jonathan's family's planned holiday cottage, which was also pretty devastated but the beach was great, supposedly in the Top Ten Beaches in the whole world. I went for a swim:
Karen and Bettyann went for a swim: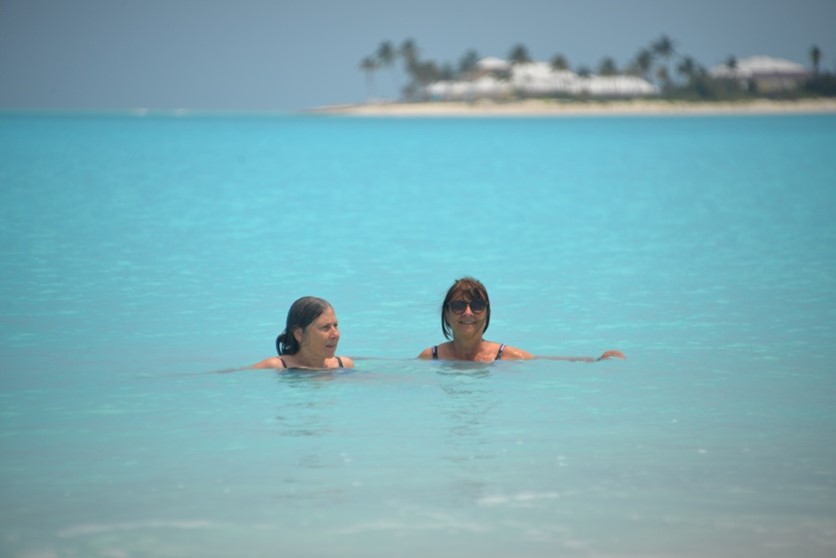 Jonathan went for a swim: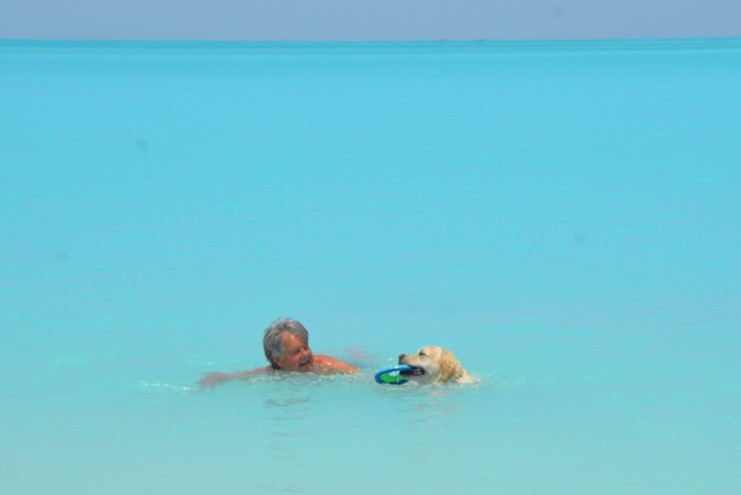 Karen and Thach went for a walk: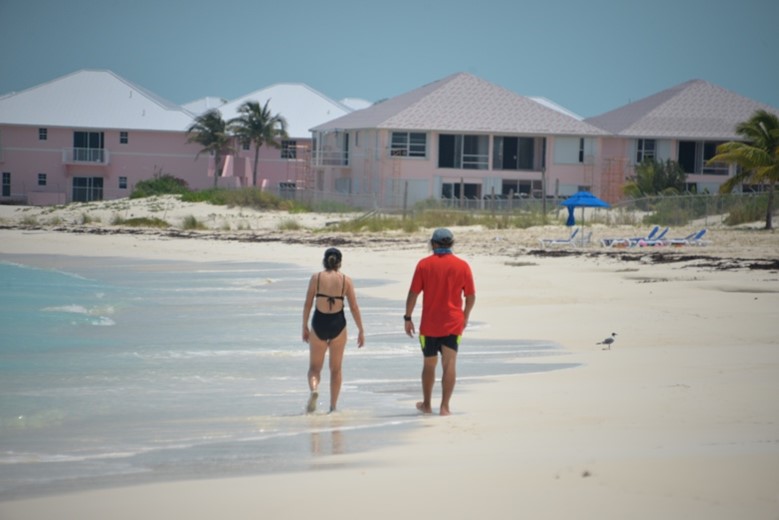 And Thach and I played Frisbee: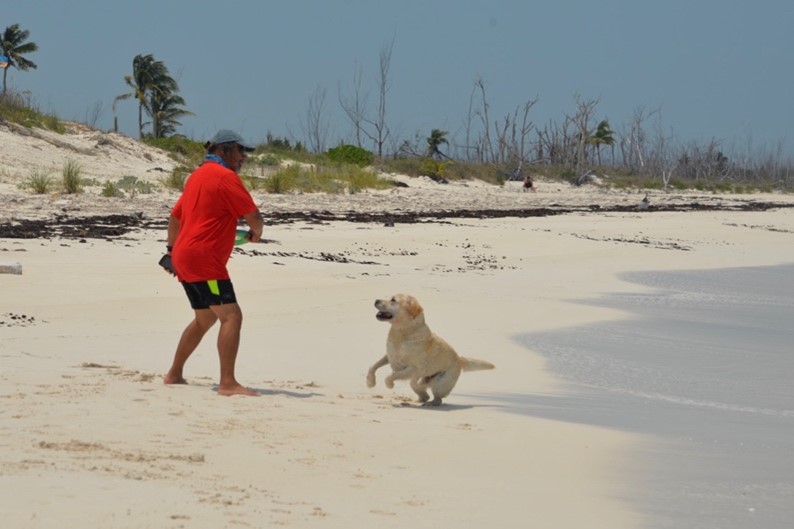 Then we went to Man o' War Cay and met up with Wendy and James Fee who were rebuilding their Dorian-destroyed house. Luckily the Guest Cottage survived and we all had dinner together on the verandah after another beach walk.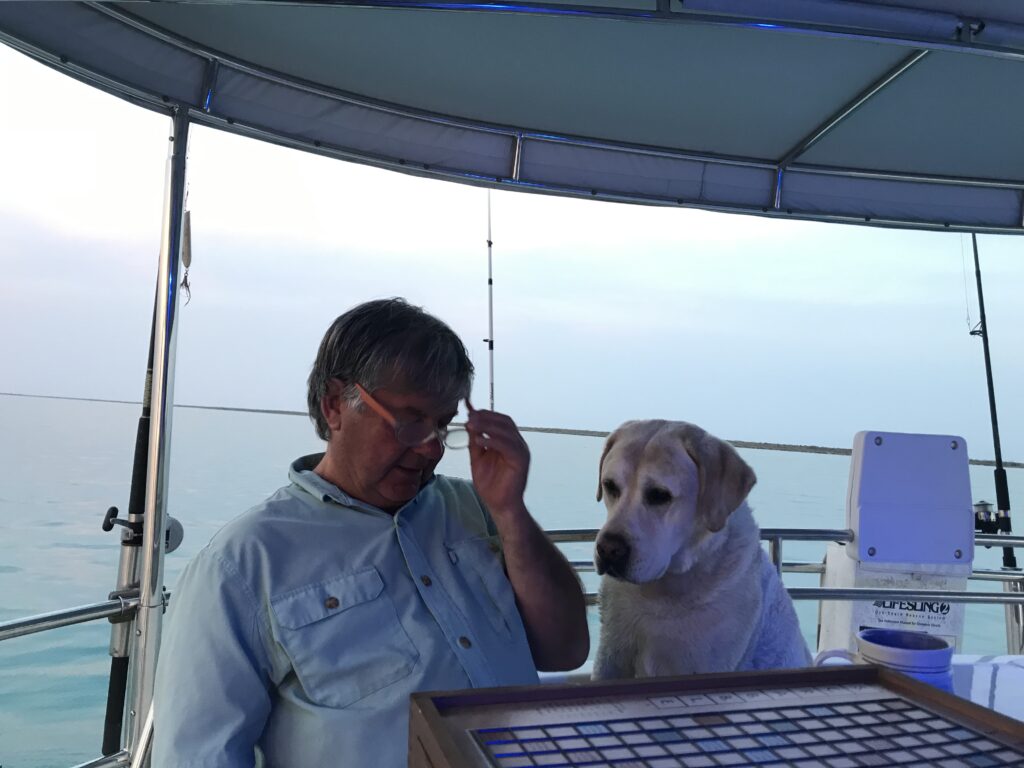 Bettyann flew back from Marsh Harbor after getting the ferry from Man o' War (to avoid another Gulf Stream crossing) and the rest of the crew retraced steps back to Old Port Cove, but not before one more piece of excitement, which was being intercepted and boarded by the US Coast Card off the Florida coast.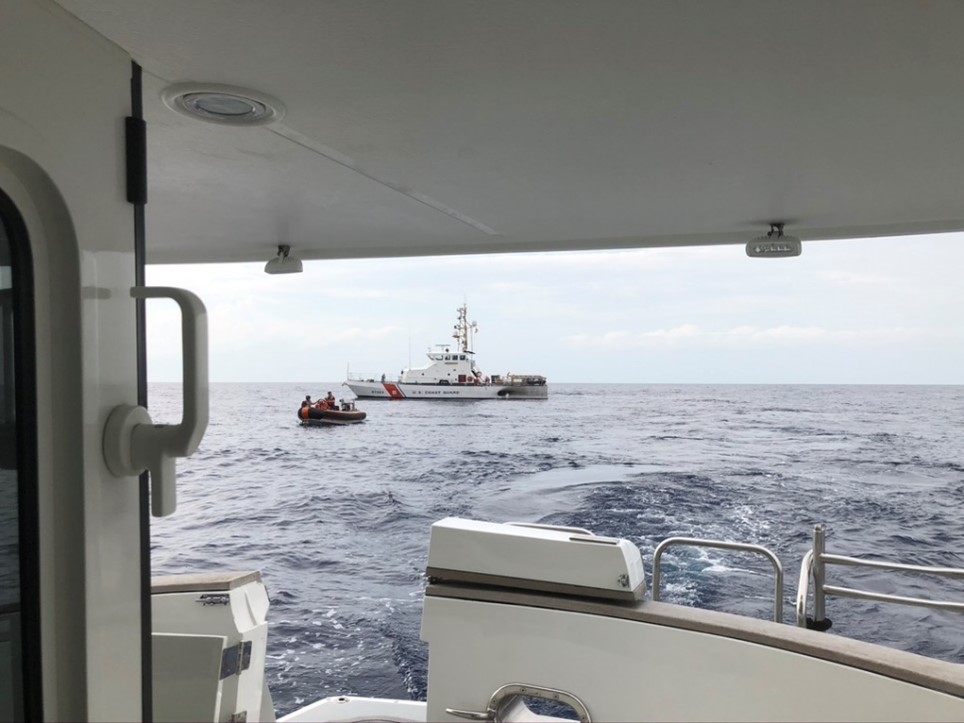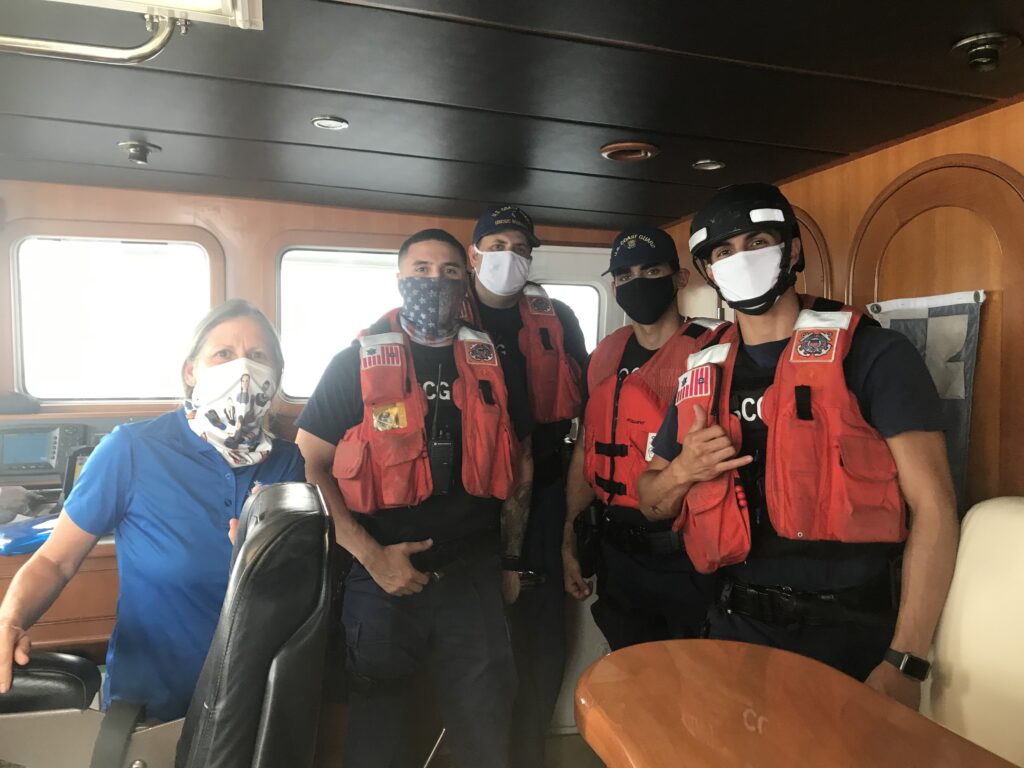 They didn't find any stashes and I made friends with them before they left. Actually what I was trying to do was board their tender as I had not been ashore for 24 hours and thought it might take me somewhere to have a pee.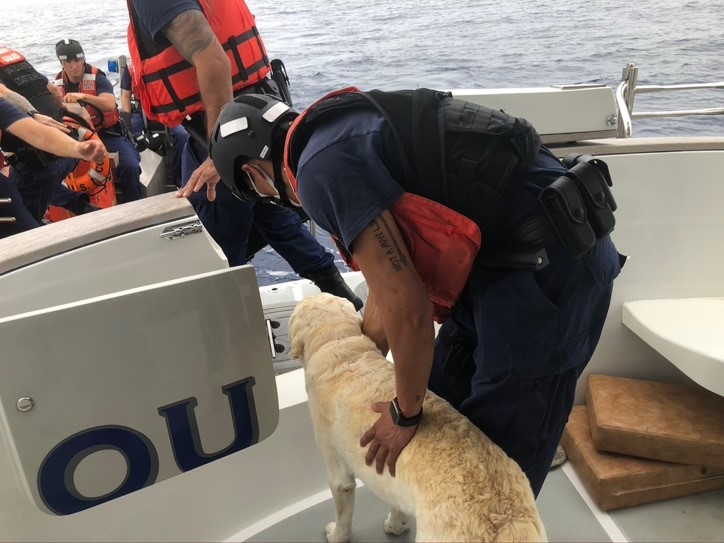 Thank you Thach and Karen for an entertaining week and I'm sorry about my dog hair that you will be finding in your vacuum cleaner, even when you get to Portugal.)