May 2021 –
Crew: Thach, Karin, Tony Leach and Jonathan Nettelfield (right to left).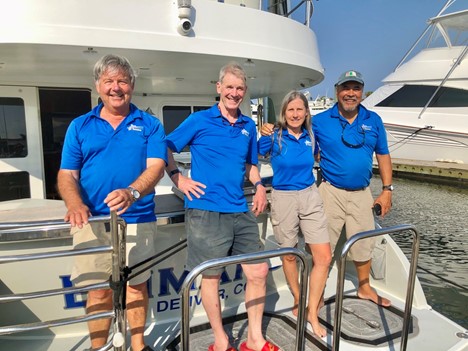 Slipped mooring at 6.00PM and joined the Saturday night party down the ICW with numerous music-playing, beer-drinking, bikini-clad, sandbar-swimming, happy-but-not-totally-sober, party-people boats until our forward progress was suddenly halted by a sandbar. Under the old adage, if you're going to have any excitements en voyages, it is best to get them out of the way early, this only delayed us for about 30 minutes until we were pulled off by TowBoatUS and we resumed the passage East. Karin was convinced that this was Florida's departing "F. U." for all the unkind things she said about the State while Jonathan's more forgiving interpretation was that this was America's way of saying we are sorry to see you go and why don't you stay a while longer?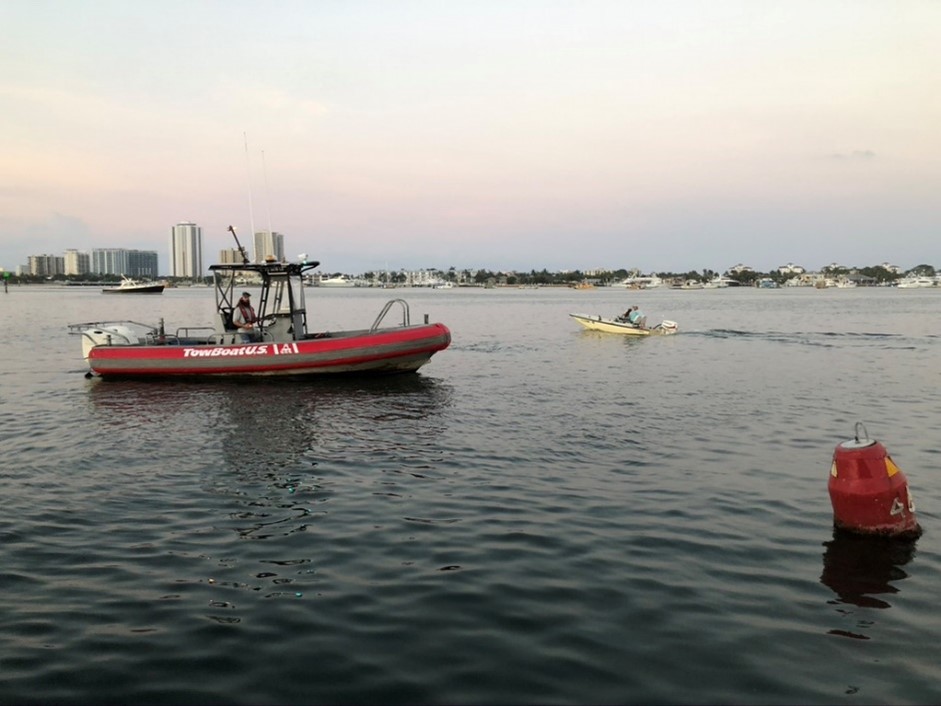 "Hey Thach, d'you think we should be on the other side of that Buoy?"
Day one was a little lumpy but after that we settled into 1-2' seas all the way over. A little seasickness on the first 24 hours for Tony and Thach but everyone soon settled down into the rhythm of 3-hour watches during the night and 4-hour ones during daylight, all fueled by Karin's excellent provisioning at Trader Joe's and the many ready meals she had prepared before leaving. Thanks to various currents, gyres, streams and other oceanic forms of propulsion, Emmanou averaged well over 9 knots and the projected "5 to 6 days" in fact took just 4 full days and 5 nights, even necessitating a slow-down at the end so we could arrive in daylight. When asked why, on the radio by the Bermuda Approaches by a man with a lovely deep Hampshire accent, Thach replied "so we can see." The above lesson from Florida departure clearly learned. As Thach was girding all his captaining skills to negotiate the narrow Town Cut which leads into St. Georges Harbour, we were requested to go to the assistance of the Bermuda Pilot whose boat had hit a reef and with 4 on board, was taking on water. (Yes, this was the Pilot!). So we turned around and headed for the reef 5nm away. Fortunately, Emmanou's stately speed of 10 knots was not sufficient and soon we were passed by a "proper" lifeboat as the Coast Guard zoomed by us so around again we turned, navigated the Town Cut successfully and tied up at the Ordinance Dock to clear customs.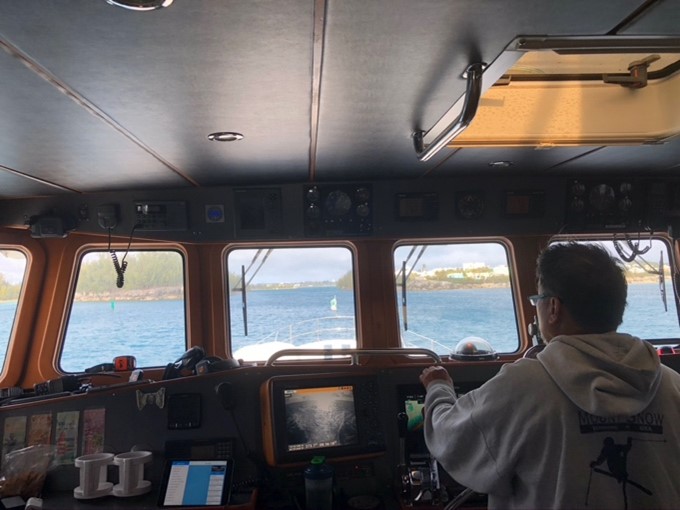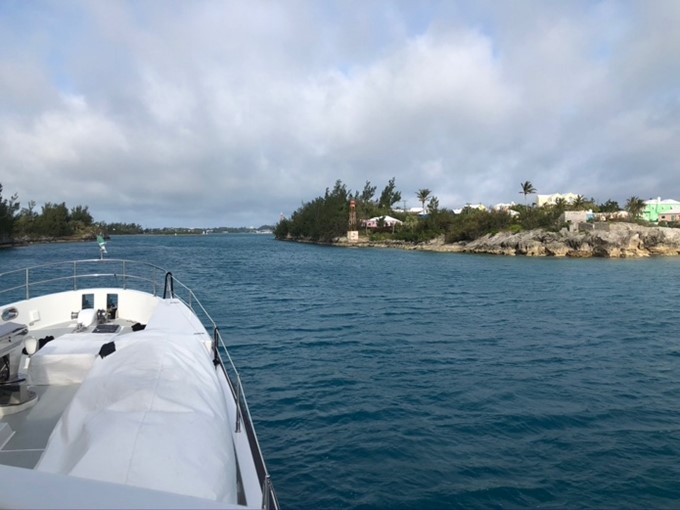 Negotiating the Town Cut.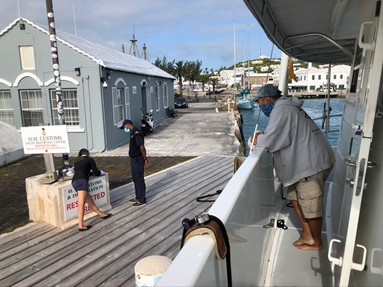 The Chief Executive Officer clearing Customs while the Captain "supervises."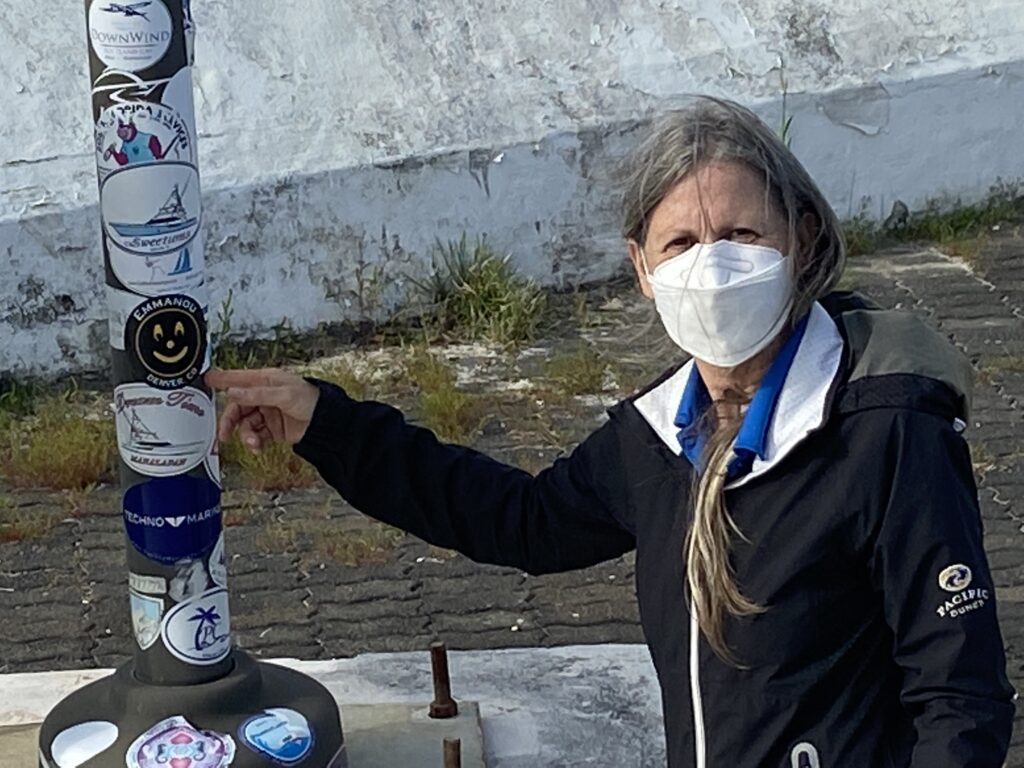 On the voyage we passed a lot of Sargasso, possibly because we were at the edge of the Sargasso Sea.
We witnessed a lot of beautiful sunsets…..
And sunrises